Each October, popular culture becomes awash in pink ribbons, pink balloons and pink shirts for Breast Cancer Awareness Month. The publicity of breast cancer research, treatment and survival through the pink campaign may the most well-known way to raise money and awareness, but it isn't inclusive of everyone.
Campaigns like "No Bra Day" have come under fire for being too "pinkwashed." The result isn't just glib, it also represents only one gender expression. That's why gender-inclusive underwear company Play Out is shedding light on the more complicated nuances of the disease through a stunning photo series. The empowering images feature women with double mastectomies who opted out of reconstruction and are bilaterally flat chested.
Models Emily Jenson (left) and Jodi Jaecks (right).
Emily Jenson, Jodi Jaecks and Melanie Testa, three breast cancer survivors who underwent double mastectomies, modeled for the campaign, which also features androgynous model Rain Dove. Jaecks says she hopes it explains more about the reality of the disease.
"This takes the conversation outside the realm of basic breast cancer awareness. Breast cancer is a fact of the human experience and it is vitally important to place survivorship in the context of empowerment," she told The Huffington Post in an email. "I think that my natural androgyny and sexual preference have given me the advantage of self-acceptance far outside of cultural gender identification or definitive norms. This self-assurance informed not only my choice to have the double mastectomy, but the certainty that my choice would serve my self-confidence and strength moving forward in my life."
The Play Out photo series was created in collaboration with FlatTopper Pride, a cancer survivors support group for LGBTQ individuals who chose not to undergo reconstruction. Testa says the photos importantly call out a underrepresented group of people who may be stigmatized in the dominant culture.
"Living in a society that does not reflect the image of my body [type] — breast-less, scarred, affected by cancer — has great consequence and influence to those who are newly diagnosed," she told HuffPost. "Not all women choose reconstruction or feel that it will make them whole again; some feel quite whole without breasts and without the need to wear breast forms. I choose to embrace my body as is and blithely proceed with grace and dignity. My hope is that other women will see these images in their time of need and that they will feel empowered and informed about flat reconstruction as one option among many."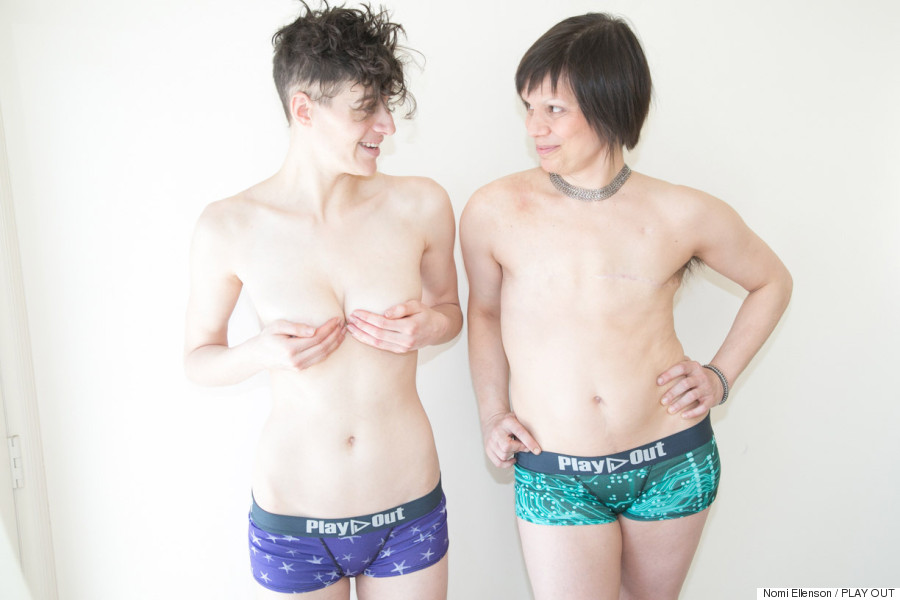 Models Rain Dove (left) and Melanie Testa (right).
Ultimately, Jaecks wants the body-positive images and her personal story to inspire strength in others who may be experiencing similar challenges with breast cancer.
"This is a disease, not just a woman's disease. Therefore, it [shouldn't] be an assault on a woman's gender identity, sexuality, femininity, body acceptance or self-confidence," she said. "Most people do not realize that over half of post-mastectomy women do not have reconstruction. If we can extend the comfort zones of women who make this choice — who long to live openly and freely — without prosthetics, we will evolve well beyond the cancer shame of the past."
To see more photos from the campaign, check out the slideshow below:
Close


PLAY OUT Double Mastectomy Campaign

of



Melanie Testa in PLAY OUT

Melanie Testa in PLAY OUT

Melanie Testa in PLAY OUT

Melanie Testa in PLAY OUT

Rain Dove and Melanie Testa in PLAY OUT

Rain Dove and Melanie Testa in PLAY OUT

Jodi Jaecks and Emily Jensen in PLAY OUT

Jodi Jaecks and Emily Jensen in PLAY OUT

Jodi Jaecks and Emily Jensen in PLAY OUT

Jodi Jaecks and Emily Jensen in PLAY OUT
 Share
 Tweet

&#10006
Advertisement
Share this
&#10006 close
Current Slide