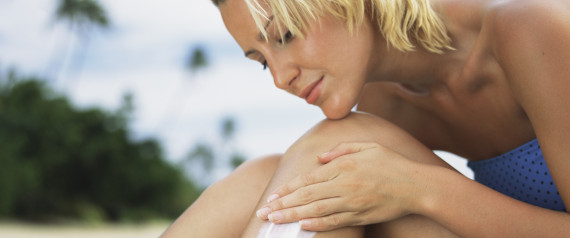 Southern Stock via Getty Images
When it comes to skin care products, it's important to know about any unwanted chemicals lurking in that ingredient label. But when it comes to sunscreen specifically, it turns out that we have to worry about what's not in the bottle, too.
In preparation for the sunniest of seasons, Consumer Reports recently tested 34 different sunscreen products to see if the sun protection factor strength claimed on the label actually matched the SPF protection in the cream. Sadly, almost a third of the brands tested didn't hold up to their own standards, missing the mark by anywhere from 16 to a whopping 70 percent. What's more, eight of the 11 failed products had an actual SPF of less than 30, which is the level of protection recommended by most dermatologists and other skincare experts.
"The Food and Drug Administration requires sunscreen manufacturers to test their products and label them correctly," Trisha Calvo, Consumer Reports' health and food deputy content editor said in a statement. "Our findings are troubling because consumers may not be getting the amount of SPF protection they think they're getting. On top of that, people often do not apply the right amount of sunscreen, fail to reapply it frequently enough, and don't minimize their sun exposure, which could potentially put them at risk for overexposure to the sun's rays."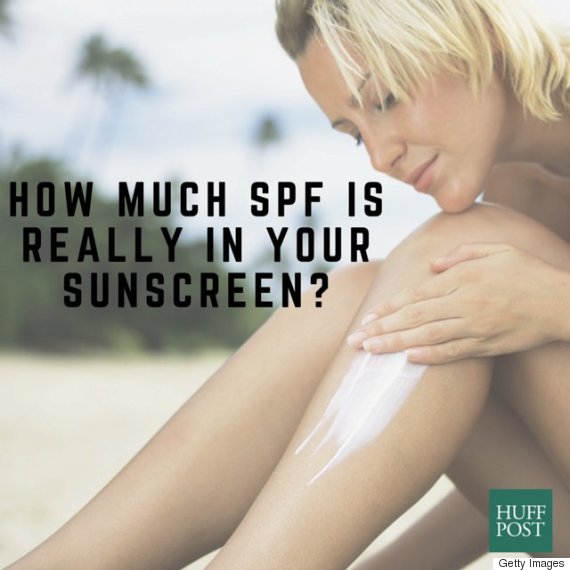 The 11 tested sunscreens that didn't stand up to their claims are:
Hawaiian Tropic Sheer Touch Ultra Radiance SPF 50 (delivered SPF 28)
Babyganics Mineral-Based SPF 50+ (delivered SPF 25)
Well at Walgreens Baby SPF 50 (delivered SPF 25)
Vanicream SPF 50+ (delivered SPF 17)
Yes To Cucumbers Natural SPF 30 (delivered SPF 14)
Coppertone ClearlySheer for Beach & Pool SPF 50+ (delivered SPF 37)
Banana Boat Sport Performance Clear UltraMist with Powerstay Technology SPF 50+ (delivered SPF 24)
EltaMD UV Aero SPF 45 (delivered SPF 22)
Coppertone UltraGuard SPF 70+ Lotion (delivered SPF 59)
Banana Boat Sport Performance with Powerstay Technology SPF 100 Spray (delivered SPF 36)
CVS Baby Pure & Gentle SPF 60 Lotion (delivered SPF 18)
The SPF measurement focuses not on the strength of protection at a given moment, but rather the length of time at which a person is well-shielded from the UVB rays that cause sunburn and contribute to skin damage that can lead to skin cancer down the road. Sunscreens with 30 SPF or higher are said to block 97 percent of these harmful rays for two hours (it's recommended that people reapply any sunscreen choice every two hours).
To measure the actual SPF of these sunscreens, the team at Consumer Reports applied each product to a different panelist's back and subsequently had them soak in a tub of water for the amount of time their particular sunscreen claimed to be water-resistant (40 or 80 minutes). Upon getting out of the water, the panelists then exposed the part of their back covered in sunscreen to ultraviolet (UV) light.
Another finding from the tests will upset the 'au naturel' folks out there: The mineral sunscreen options didn't work all that well, either. While the use of the word "natural" in sunscreen labeling doesn't have a set definition or regulation, it typically indicates that the only minerals the product contains are zinc oxide or titanium dioxide (the active ingredients in many sunscreen options). Many people with sensitive skin or particular allergies turn to these chemical-free options, but of the five mineral sunscreens tested, only two met their SPF claims. For example, Yes To Cucumbers Natural SPF 30 had an average SPF of only 14.
On the flip side, many of the products tested not only successfully met their claims, but also fell in the lower price ranges. If you're looking for skin protection on a budget, the folks at Consumer Reports were particularly impressed by Coppertone Water Babies SPF 50 lotion ($10.50 for 8 ounces), Equate (Walmart) Ultra Protection SPF 50 lotion ($9 for 16 ounces) and Banana Boat SunComfort Continuous Spray SPF 50+ ($11 for 6 ounces). And for those who can afford a little splurge, La Roche-Posay Anthelios 60 Melt-in Sunscreen Milk SPF 60 ($36 for 5 ounces) received a perfect score of 100 in the test.