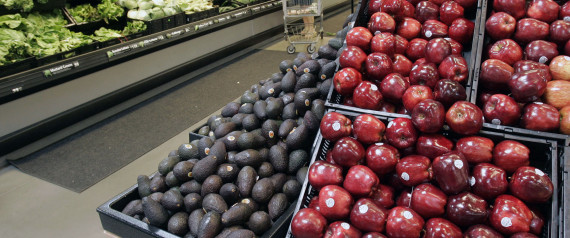 Several Boston-area organizations are collecting food for the hungry that would have otherwise ended up in landfills. (Photo: Danny Johnston) | ASSOCIATED PRESS
At a time when so much perfectly edible food is wasted, more and more efforts are being made to address the issue — but the question remains of how to get "rescued" food that would have otherwise been discarded to the people who need it most.
That's where a group like Food For Free, a Cambridge, Massachusetts-based nonprofit, steps in.
Through its food rescue program, the group collects unsold fresh food, like fruit and vegetables, and prepared foods and dairy products nearing their sell-by dates — items that otherwise would have wound up in a landfill — from a range of donors including grocery stores, farmers markets, universities and bakeries.
Food For Free then takes that food and distributes it to charities that serve the hungry, groups that sometimes are lacking in fresh food options. Some of the program's biggest donors include area Whole Foods, Trader Joe's and Costco stores, as well as the dining halls at Harvard and MIT.
The program, as reported by the Boston Globe, works in concert with new food waste regulations signed into law in Massachusetts last year, which forbid any institution or organization that dumps more than a ton of food waste per month from sending it to a landfill.
Tax breaks are also available for participating businesses, which helps Food For Free to make their case to potential donors, though the Globe noted that some groups — franchise owners and nonprofit universities — aren't eligible for them.
"There's an incentive [to donate] now, and particularly with universities and large institutions," Food For Free executive director Sasha Purpura explained to Boston magazine earlier this year. "It's helping to bring even more awareness to this issue, and hopefully with that ban, and with the awareness that comes up around it, more organizations will be interested in donating."
The group has been at it for years, having been incorporated in 1983, and has had a tremendous impact. Last year, they distributed more than 1.5 million pounds of food to 110 charities in the Boston area, 1.3 million pounds of which they had diverted from a landfill, according to its website. Some of the rest of the food they distribute is grown through their own quarter-acre plot hosted by Lindentree Farm in Lincoln, about 12 miles northwest of Cambridge.
Food For Free is just one of several Boston-area efforts to reduce food waste and address hunger. Another group, Lovin' Spoonfuls, picks up food and distributes it to community nonprofits that serve the hungry and also offers cooking, food storage and nutrition demonstrations and seminars.
In addition, a new nonprofit grocery store called Daily Table, stocked almost entirely with food donated from wholesalers or for-profit grocery stores, opened its doors in Boston's Dorchester neighborhood last week. The store was founded by Doug Rauch, the former president of Trader Joe's.
A number of other state and city governments have stepped up to address food waste in recent years. Connecticut was the first state to do so with a food waste landfill ban in 2011, and Vermont followed suit in 2012. At the city level, Seattle (along with Vancover, British Columbia, in Canada) instituted a ban on throwing away food in the trash in an effort to encourage more composting and recycling.